Pre-Owned Commercial Laundry Equipment
Washers, Dryers, Soap Dispensers, Change Machines
Dryers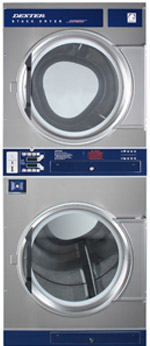 Note: We do not collect sales tax on anything shipped out of the State of Missouri
Dexter EXPRESS Stacked Dryers - STAINLESS Fronts & DRUMS
Number Available = 20
Availability = (2 Available Immediately) 2-4 Weeks
Brand= Dexter (Made in the USA)
Model= T30X2
Capacity= 30LB Each pocket x2
Power Required= 120VAC or 220VAC, Natural Gas (Propane Kits Available)
Age: 2
Price= $4780.00
SEG Item#:STACK30EXPRES-SS4200-36

Description: Dexter's EXPRESS stacked dryer is their fastest, most efficient stack dryer ever. It dries faster and uses less electricity and less gas. With a reputation of having the best performing stacked dryers available, Dexter can help you maximize your space and your profits. The "stacked" design allows you to increase your drying capacity without using up valuable retail space and Dexter engineered their dryers specifically to help you increase the turnover in your commercial laundry. Each dryer tumbler holds 30 pounds (13.6 kg) of laundry. Natural Gas, Stainless Steel Fronts & Stainless Steel Drums, Currently in use and in perfect working order. Coin Mechs. Included. Money boxes not included but are available. Propane Kit Available. Card readers not included.
Specs: Stainless Fronts & Drums!

Documents & Information (Adobe PDF Files. Click here to get Adobe Reader) Or contact us to fax.
Features & Specs.
Installation Manual
Owners Manual
Programming Instructions
Mounting Dimensions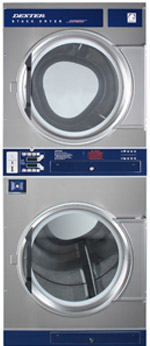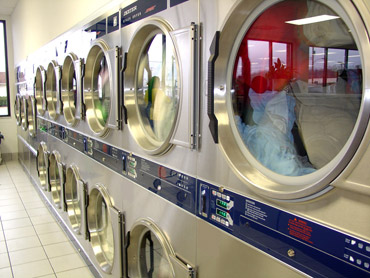 Shipping Options
Need more info? Want to buy?
S.E.G. Contact information