Pre-Owned Commercial Laundry Equipment
Washers, Dryers, Soap Dispensers, Change Machines
Dexter T350 Express
20LB Washer
Note: We do not collect sales tax on anything shipped out of the State of Missouri
Dexter T350 20LB Front Load Washer
Number Available: 32
Availability: 2-4 Weeks
Brand: Dexter
Model: T350 Express
Capacity: 20 Pound
Age: 1 Yr
Price: $3075.00
Power Requirements: Single or 3 phase 208-240VAC
Weight: 418 LBS
F.O.B.: St. Louis, MO (63026)
Shipping Quote: Click here for shipping quote
Money Boxes\Coin Boxes: Available but not included. Money Boxes
S.E.G. Item Number: SEG2925-T350A-32
Contact SEG for more information & to purchase Click here
Documents & Information (Adobe PDF Files. Click here to get Adobe Reader) Or contact us to fax.
Features & Specs.
Installation Manual
Owners Manual
Programming Instructions
Mounting Dimensions

Description: Stainless Steel! The Dexter T-350 Commercial Express Double Load Washer has a dry weight capacity of 20 pounds (9.0 kg) and extracts water at a powerful 200-G's. This energy efficient meets CEE tier 1 specifications with DOE/Energy Star MEF of 1.82, and can cut your washer utility costs by as much as 60%. Money boxes are not included, but are available. File photo. Stop Button & 200 G-Force Extraction. Extracts water at a powerful 200-G's. Energy Star Certified.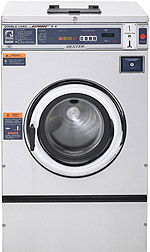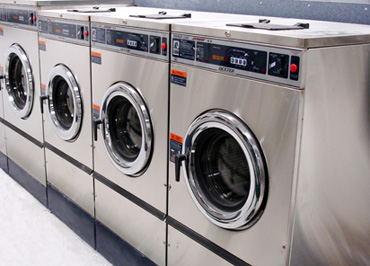 Shipping Options - Pickup or Delivery?
Need more info? Want to Buy? SEG Contact Info.